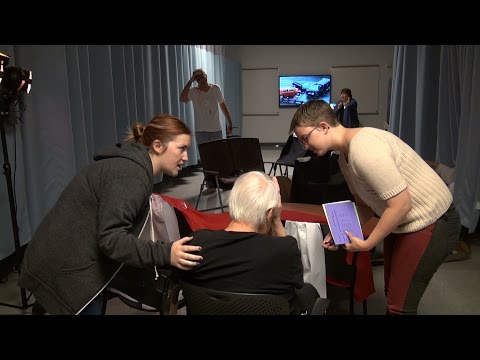 Last Sunday, DeSales hosted a training exercise nursing and physician assistant students, who triaged victims of chemical burns, lightning, a deck collapse, a gunshot wound, and a motor vehicle accident. Five groups of two students each had approximately 10 minutes to run through each scenario and provide the necessary triage.
Standardized patients (SPs) acted as victims in each of the scenarios, with injuries created through the use of theatrical make-up. SPs are individuals from the community who are trained to portray a patient with a specific medical condition. By interacting with SPs, students gain experiential skills by performing physical examinations and other clinical skills in our simulated clinical environment.
SPs provide valuable feedback and can help to evaluate student performance, which is part of the debriefing held after each scenario. Each scenario station also had a facilitator as the students conduct their triage assessment.
At the completion of the drill, a debriefing discussion was held to review the strengths and weaknesses of the event, which will assist in planning for future drills.
"The goal of the drill is to provide student the opportunity to use and enhance the skills acquired in the classroom and apply these skills in a real world setting," said Dennis Rasley, director of emergency services and incident commander for the exercise, "They are then better prepared for their post-graduate careers."